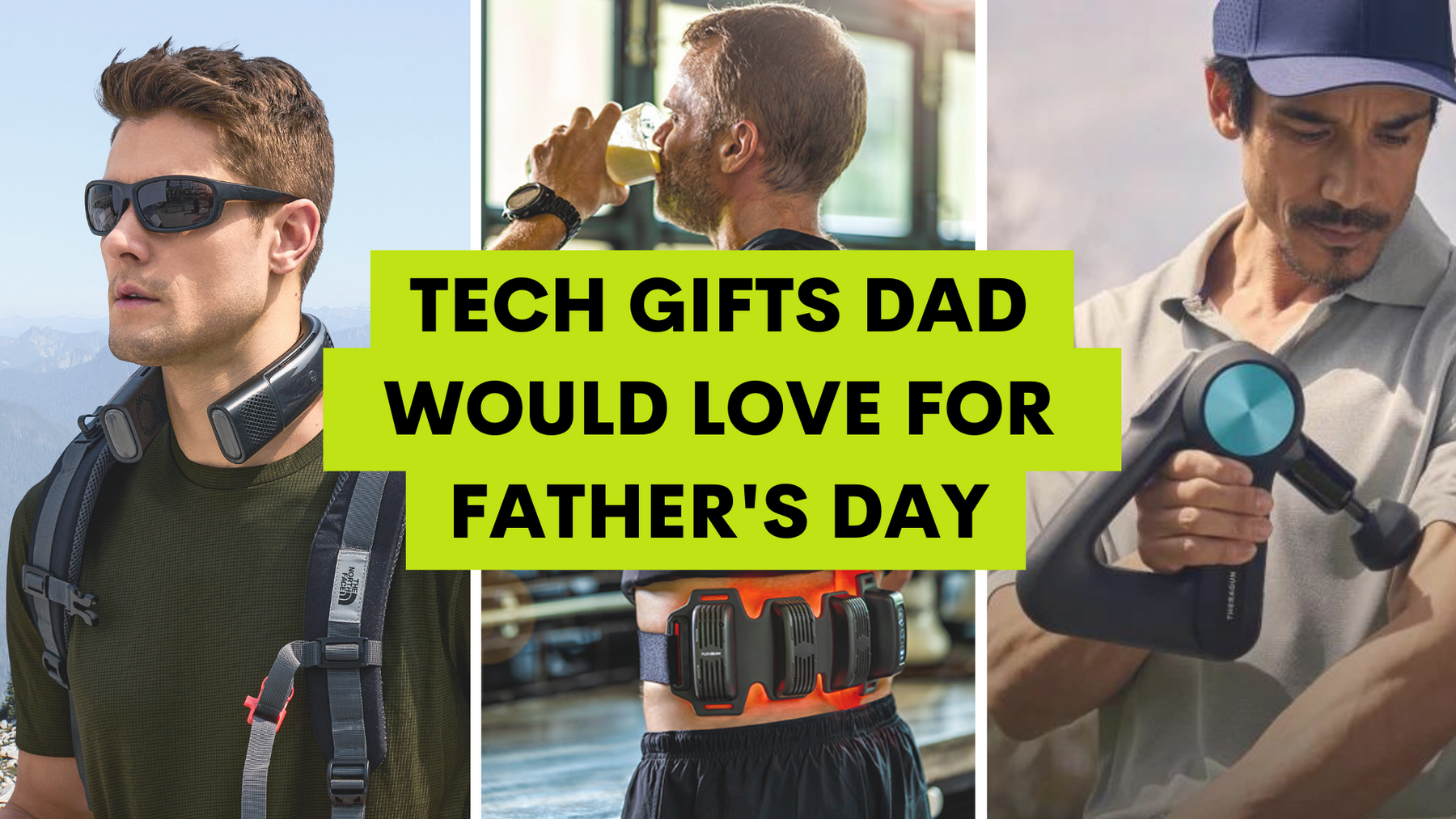 (Updated!) 2023 The Best Father's Day Gifts for Singaporean Dads
Father's Day is coming soon, on 18 June and here's the chance to get the perfect tech gifts to show our thanks to the most important men in our lives. 
We compiled a guide list on the products we think dads would love.
1. Theragun PRO 
The best of the best. Pay off their hard work with great massages anytime with the Theragun PRO. Let him soothe those aching muscles without leaving the house and with the Theragun app, he can connect it and personalise his routine.
The Theragun PRO also has four distinct arm settings and with the innovative ergonomic handle design, your dad can reach parts of his body with ease. With the upgraded motor with QuietForce Technology, it still maintains the power without losing speed or quality. 
If your dad loves to workout, or just love a good massage, the Theragun PRO is the perfect gift for him.
Shop Theragun PRO and receive a free truly wireless earphones during this Father's Day promotion. A great 2-in1 gift for dad!
BONUS: Is he a football fan? Does he love Paris Saint-Germain? Why not get Dad this Paris Saint-Germain Special Edition Theragun PRO!
Or check out the full Theragun collection here.
2. Chipolo CARD Spot & ONE Spot
 Does your dad always lose his keys or wallet or anything else? Why not make searching easier by getting the Chipolo CARD Spot & ONE Spot?
The thin CARD Spot slips easily inside a wallet without adding much bulk and the ONE Spot can basically attach to anything that has a keyring on it. It works exclusively with the Apple Find My app and your dad can easily locate them and even receive an alert when he's leaving without his devices.  It's also water resistant and so loud that your dad can definitely find them in a noisy environment.
Get him the Chipolo CARD Spot or the CARD Spot & ONE Spot bundle so he never has to worry about losing his belongings again.
Shop the Chipolo CARD Spot here.
Shop the Chipolo CARD Spot & ONE Spot bundle here.
3. Coolify 2S Smart Wearable Neck Air Conditioner
Need to cool down in Singapore's hot weather? Feeling a little too cold in the room? The Coolify 2S portable air conditioner helps with any occasion dads find them in.
The new and improved version of its predecessor, the Coolify 2S now comes with even more upgrades with larger cooling plates that wraps around the neck and a longer battery life which now can be charge while in use. With 3 different setting modes - cooling, fan and heating, the new Coolify app can help Dad adjust the settings right to the perfect intensity he enjoys. Truly a personal fan like no other. 
Whether your dad loves the outdoors or is more of an indoor person, the Coolify 2S is the perfect gift for dads for any situation.
Shop the Coolify 2S here.
4. FlexBeam
Targeted red light and near-infrared light therapy has a lot of benefits which includes accelerating the body's recovery and also optimizing your health. The FlexBeam uses targeted red light therapy to relieve, repair and recover the body by penetrating through the cells.
The FlexBeam is designed to bend around areas such as the knee joints and the elbows but also works for along the spine or arms. With the three presets, your dad can select the intensity of the red light therapy according to his needs and what needs attention. 
Gift your dad the perfect recovery gift so that he can stay healthy and have a more comfortable lifestyle.
Shop the FlexBeam here.
5. SmartGoggles

Does your Dad complain about having headaches or you see him rubbing his temples or unable to fall asleep? Well, Therabody's new SmartGoggles would be the an amazing addition to Dad's life.
Not only does it help reduce eye strain and helps more restful sleep, but this eye massager has a biometric sensor that customises treatments to lower the heart rate to help Dad feel more relaxed and eases stress and tension.
With three options from Focus, Sleep and SmartRelax, these modes combine massage, heat and vibration so that dads (young and old!) feel relaxed, making it perfect to get them through the day and rest well at night. 
It's 2023, time to show that even dads need a little pampering.  
Shop SmartGoggles here.
Still not finding what you're searching for?
Check out our best-seller Theragun Prime if you're looking for a fool-proof gift that your dad will appreciate or browse through our website to see what other products we have.