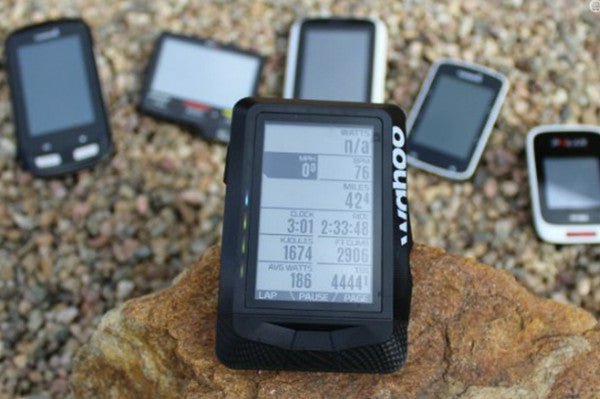 Wahoo Elemnt Product Review By the BikeRadar
"Great functionality and innovative features, ahead of Garmin in some ways and behind in others"
Highs: Configuration, on-bike use and uploads are easy; zoom functionality on data and map pages adds options without complexity; company is quick to iterate new features and fix bugs
Lows: Route guidance is rudimentary; chunky form factor; black/white screen; high relative price; top buttons are hard to operate with gloves
Buy if: You love your smartphone and want to try something different

With easy configuration via a paired smartphone, a sensible zoom feature for all pages, plus Wi-Fi/Bluetooth uploads, the Wahoo Elemnt is a modern GPS cycling computer. It's a little on the portly side in both price and form factor, but the functionality for the most part is quite satisfying, whether when using it alone or in tandem with things like a power meter or a smart trainer.

ADVERTISEMENT

There is a wealth of metrics, from the standard speed, distance, time, power and heart-rate based numbers to the cutting-edge data with SM02 fields and integration with electronic drivetrains.

The Wahoo Elemnt connects to peripherals via ANT+, to smartphones with Bluetooth, and to your home network on Wi-Fi. Wahoo is betting the farm on the phone integration, operating on the assumption that riders will prefer to use the phone for setup instead of submenus on the unit itself.

From the start, Wahoo as a company keyed off the iPhone, offering products like a Bluetooth/ANT+ Tickr heart-rate strap that works with the phone, and the Rflkt cycling computer that's essentially a monitor to display the processing power and GPS of a phone.

Best GPS devices for cycling


Unlike the Rflkt, which is useless without a paired smartphone, the Elemnt is a standalone GPS cycling computer… sort of. In order to set up the unit, you need an iPhone (4s or newer) or an Android (4.3 or newer) phone. For those who have such a smartphone, the initial configuration of each of the pages is a snap; you just navigate with your phone, dragging what you want where, and the Elemnt changes to match.

With a 2.7in screen, the elemnt isn't small:
With a 2.7in screen, the elemnt isn't small:
With a 2.7in screen, the Elemnt isn't small

It's laughably easier than clicking into and down submenu after submenu on a computer. Not only is it easier to configure, it's just a superior way to quickly see what all your options. For those without such a device... this isn't the computer for you. There isn't a way to set up the page configuration without a paired phone.

For Stravaheads, the Elemnt offers some cool integration, including automatic uploading of your Strava routes to the Elemnt. Going the other direction, you can associate your Strava and TrainingPeaks accounts with your Elemnt, so that automatic ride uploads populate those sites, too.

As with Garmin's newer Edge computers, the Elemnt can also deliver on-screen alerts for texts, phone calls and emails, if you so choose for each of the three.

Routes you've created on strava automatically and wirelessly populate on the elemnt:
Routes you've created on strava automatically and wirelessly populate on the elemnt:
Routes you've created on Strava automatically and wirelessly populate on the Elemnt

The screen is black and white, not color like a newer Garmin. The Elemnt comes with Open Street Maps, which are at least as good as Garmin's base maps, but the navigation is far inferior to that of the GPS giant. There are no turn-by-turn directions or alerts – just the highlighted route to follow on the map and a little flashing red light when you go off course.

The Elemnt has LEDs on the side and top of the unit, which can be configured to flash for above/below target pace, HR or power settings.

The original and continuing plan is to use the LEDs for upcoming turn alerts when following a route, but that hasn't gone live yet.

Fast fixes

This brings up a critical point with Wahoo as a company and the Elemnt in general. In our experience with Wahoo products, the company is quick to update firmware and apps, resolving bugs and adding new features. For instance, in the first week I had the Elemnt they added about a dozen features and fixed a complaint I had about painfully slow ride uploads and the app. With the Kickr Snap, when a batch was shipped with a faulty factory setting, Wahoo had a fix via an app built in a matter of days. All that to say, I am more likely to believe Wahoo when they say a feature is coming than, say, someone with a Kickstarter campaign.

The Elemnt had SRAM eTap integration before Garmin did, and was an early adopter of muscle-oxygenation metrics from the likes of BSXinsight.

The Elemnt has built-in GPS for speed, distance and related metrics, but you can connect it to speed or cadence sensors for higher accuracy. The Elemnt is sold alone, or as a bundle with the Tickr HR monitor, plus Wahoo cadence and speed sensors.



These three buttons drive most of the functionality, with the up/down side buttons fine-tuning the display by showing more or fewer data fields, or zooming in or out on the map:
There are three main screens: workout, climb and map. Once you've set your hierarchy of important fields, you can zoom in or out to see more or less data. For example, the workout preference might be: time of day, 3sec power, heart rate, speed, cadence, ride time, etc. Then you could zoom in to see just the top two, or zoom out to see them all. The screen can accommodate between two and 10 fields of data.

You can also create your own additional screens.

For live tracking, Wahoo has pushed the envelope, boasting the ability to show you where your friends with their own Elemnts are riding in real-time on the map screen.

The Elemnt ships with three mounts: out front, stem and TT. The out front mount is a little wiggly, for the size of the Elemnt and amount of force needed to press the buttons. Notably, K-Edge has an alloy mount for the Elemnt. Speaking of buttons, the side buttons are easy to press in gloves, but the three top buttons require a little more precision than thick gloves can easily muster.

Battery life is a claimed 17 hours for the 3.5oz unit with a 2.7in screen. In my experience, a 7-hour ride took the battery from full down to 50%, so the claimed battery life could be close. I found you need to charge it nearly every day if you use it often.



The wahoo elemnt won't dethrone garmin from gps computer supremacy, but it should put the tech giant on notice:
The Wahoo Elemnt won't dethrone Garmin from GPS computer supremacy, but it should put the tech giant on notice

Being part of the Wahoo family, the Elemnt can be used a remote control for the Kickr and Kickr Snap power trainers.

Bottom line

The Wahoo Elemnt has great functionality and some innovative features, like the zoom in/out option for each page. Unlike my Garmin Edge 520, the Elemnt does not drop ANT+ signals, which is nice if you like to dork out post-ride on data. The size and lack of robust navigation is a little disappointing, and puts it behind Garmin. But the company's eagerness to iterate and continuously improve the unit is encouraging of good things to come.