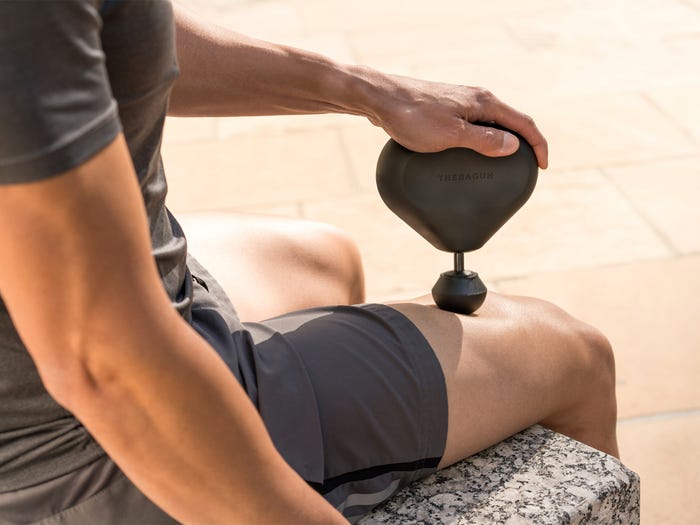 Theragun Mini Review
Originally written by Rick Stella for insider.com on July 3, 2020.
A Powerful Massage Gun in a Small Package 
With the three high-end models, Theragun improved on its tried-and-true formula. There's the triangular shape, a remarkable amount of power, the ability to deeply work muscles without stalling the gun, and now they even have smartphone app-integration. 
The Mini forges its own path, though. Meant to complement the larger lineup, the Mini actually does enough to stand on its own — it's portable, has a different design, offers a similar output of percussions per minute (PPMs) as the advanced models, and carries a price tag of just $199. 
Each of the brand's Fourth Generation massage guns offers speeds ranging from 1,750 to 2,400 PPMs, allowing the Mini to mostly stand toe-to-toe with its kin. Though the advanced models offer more custom PPM control within that range, the Mini still packs the same percussive punch — even if it lacks customization by only offering those exact three speeds.
QuietForce Technology makes a world of difference
In the Mini, Theragun debuted what it calls QuietForce Technology — and although it sounds like gimmicky brand speak, it actually lives up to its name. Before digging into the spec sheet that came with the Mini, I tore open the packaging and immediately turned it on. After a few seconds of use, one thing was clear: it's far quieter than any massage gun I've used. The noise is still there, no doubt, but it's far less annoying, especially over longer sessions.
Is it Worth it?
At $199, the Mini is the cheapest massage gun to sport the Theragun name. As an entry-level device that's highly portable yet powerful and effective, the Mini is an impressive addition to the brand's lineup. Though it may not replace any of the brand's advanced models, for the more casual user, it's perfect.
Read the full article here :