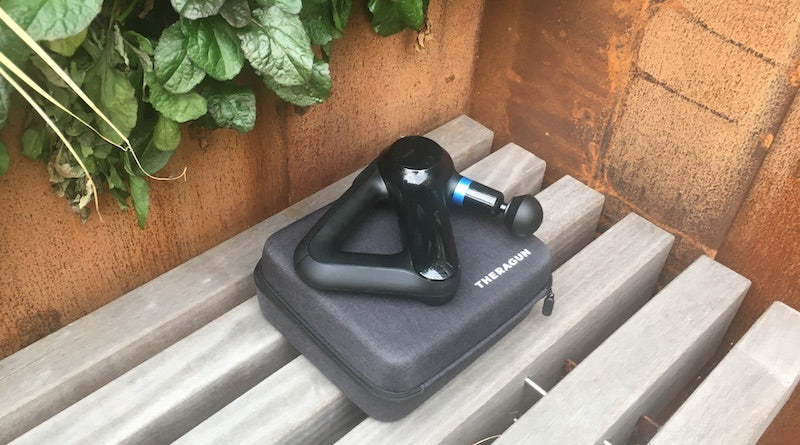 Theragun Elite review : soothe sore muscles with this high end percussive therapy device
Originally written by Marko Maslakovic for gadgetsandwearables.com on August 10, 2020.
Have you ever thought about home-based percussion therapy. I didn't until someone told me about it. Who even knew there were devices for such a thing? Hence this Theragun Elite review.
Percussion therapy releases rapid bursts of pressure into the tissue of the body. Put more simply, it's deep tissue massage. Typically you would go to a physical therapist or a licensed massage person to get this. But this is 2020 so there are home-based options that provide the same effect.
And no, I'm not talking about a foam roller as a self-myofascial release tool. This is a more high tech solution that comes in the form of a massage gun.
The thing loosely resembles a gun, hence the name. But instead of bullets, it shoots relief through your muscles, aids recovery, decreases soreness and increases your range of motion. A massage gun does this by punching you – rapidly and repeatedly.
Design
From the second you open the box it's evident that this is a high quality product. Inside you'll find the Theragun Elite, five attachments, a power adapter and a small instruction booklet.
So you can store everything neatly away, there's also a black, smart looking, protective carrying case. It's very useful for taking it with you on trips and making sure you don't lose any parts.
The massage gun itself is different from other such devices on the market in a number of ways. The most obvious is the design. The thing comes with an ergonomic multi-grip allowing you to hold it in a number of ways. This helps minimise the strain on your hands while you are massaging yourself. As far as dimensions, the gun comes in at 9.5 in x 6.7 in x 2.9 in.
The attachments slip easily on and off. Simply pull the attachment firmly and it comes off the end of the gun. Press a replacement in its place and it neatly clicks on.
There are other customisation options, too. On the front of the device you'll find a single physical button. Tap this firmly and the device will power on. The OLED screen will spring to life letting you know the device is ready to go.
Press the button once again and it will start up. You'll then notice that the soft foam around the physical button is press-able. Click right above it to increase the number of percussions per minute, right below it to decrease the percussions.
There are five different built-in speeds to choose from: 1750, 1900, 2100, 2200, and 2400. If you are new to the massage gun game I suggest you go for the lowest one. The accompanying smartphone app allows you to further customise the number of percussions and choose any value between 1750 and 2400.

You (and others in your household) will be happy to know that the device is not loud. Therabody says it has used "advanced sound insulation around the QX65 model of the proprietary brushless motor with QuietForce Technology". I'm not sure what all that means but the end result is something that is very discreet. The sound is perhaps only slightly louder than an electric hair clipper, shaver or a standard electric toothbrush.
As far as battery life, the Lithium-ion battery is good for up to two hours of continuous use. So even if you power it on every day you should be good for at least a week or two.
Using the Theragun Elite
To use Theragun Elite start by selecting the appropriate attachment. I suggest you follow the routines in the app. This will not only guide you to the correct attachment to use, but it will also instruct on how long, where, how much pressure to apply to the muscles.
For example, a very simple routine is called Shoulders – it reduces tension in this area to help you move easier. The routine lasts only 120 seconds and requires you to work 1 minute on one shoulder, the next minute on the other.
Once you have done a routine a few times you might opt to do it without the app. The OLED display has the benefit of showing your current speed and a responsive force meter. You can therefore follow most of the metrics – it's just that it's much easier to do this with the app.
If you have a few favourite routines, you can save them as presents on Theragun. That way you can play them on the go without your phone.
You could also try a more complex routine. A good example is the one for post-run recovery. This one consists of working on 6 distinct groups of muscles: feet, shins, calves, hamstrings, quads and glutes. It takes 10 minutes to complete.
Bottom Line
Overall, I found the build quality of Theragun Elite to be excellent. I really liked the multi-grip handle design as it allows easier access to those hard to reach areas. The deep amplitude of Theragun gives firm pressure and sends vibrations that really loosen up those muscle knots. This is a powerful gadget, that is excellent, customisable (5 different attachments, various speed settings), quiet and extremely simple to use.
Theragun is said to be the most often used percussive therapy device by physical therapists, trainers, chiropractors, professional sports teams and others. The above are just some of the reasons for this.
Check out the Theragun Elite here