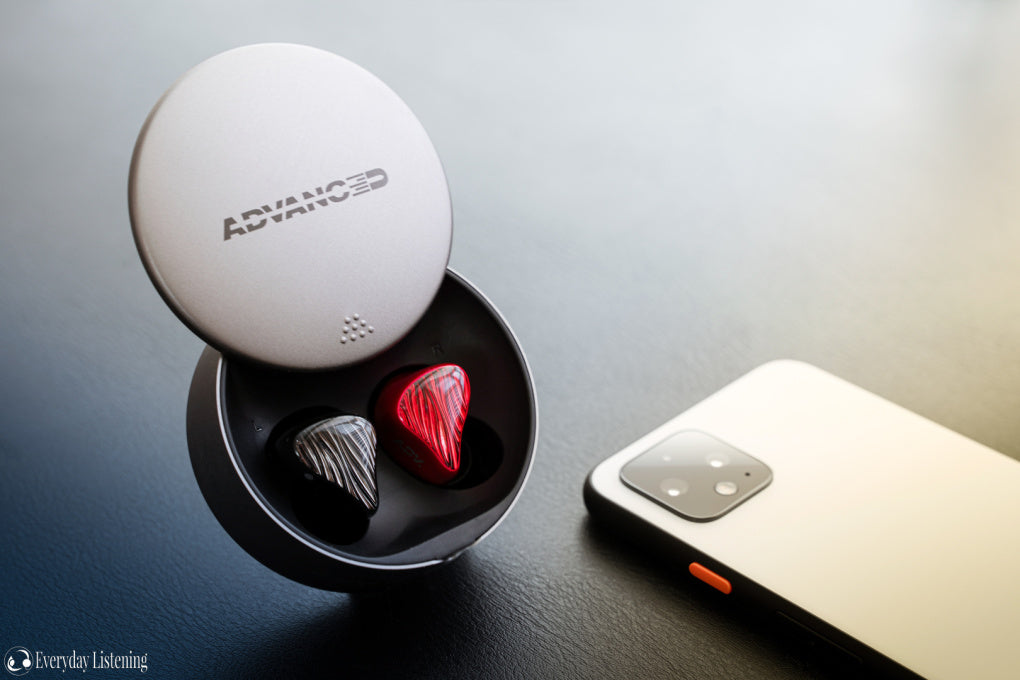 Review of Advanced M5 TWS Earbuds
Originally written by Ryan Soo for theheadphonelist.com on March 29, 2020. 
3D Printed Housings
While mostly used for custom earphones, ADV. leverage their foray into such form factors to create more ergonomic universals. Utilising 3D printing, which permits ADV. to finely contour their housings and referencing an extensive library of ear impressions, ADV. has created a housing that maximises comfort and fit for the vast majority. The finish is perfect, the clear coat is smooth and flawless with no bubbles or contamination. The M5 TWS carries the refinement of a consumer product and demonstrates that we've come far from the rough 3D printing of old.
PHPC Driver
The M5 implements a pressurized high-purity carbon driver. We've seen this done before, the high tensile strength of carbon enables a thinner, lighter and quicker accelerating diaphragm while minimising modal distortion. A high mass voice coil that increases stroke alongside an enclosure that increases pressurisation should translate to strong bass extension while retaining strong treble extension. ADV. also puts emphasis on the housing design and acoustic filter system that has been used to create a sound that traces the Harman target curve. In my testing, this is not 100% accurate, however, the resulting sound is certainly very revealing and well-balanced.
High Res Codec
By implementing Qualcomm's QC3020 chipset, the M5 supports Qualcomm's Apt-X codec in addition to AAC which both provides higher fidelity than standard SBC. HD is not supported, however, I am not aware of a TWS chipset that supports this feature at present. This is  BT 5.0 chip that supports stereo plus (both earpieces paired in tandem in mono) in addition to independent pairing of each earpiece to either reduce latency or extend battery life. The chip has an in-built DSP and low power consumption that enables ADV. to hit their design goals more easily.
Connectivity and Battery Life
The Qualcomm chip optimises usability with an intuitive pairing process and automated reconnection. Upon removing the earphones from the case, they immediately enter pairing mode or auto pair to the last connected device if available. More devices can be paired in a similar fashion. Range ranked well among the TWS earphones in my possession, holding a strong connection through 2 room with double brick walls where most start to cut out intermittently. Otherwise, I experienced no dropouts or interference when using the earphones within Sydney CBD where connection issues tend to be most prevalent. Latency was average over a normal connection, with minor lip-sync offset. Qualcomm's true wireless stereo is available to mitigate this on supported devices which makes them suitable for movie buffs and gamers. As aforementioned, they are also able to pair independently, potentially doubling the battery life when used in mono.
Read the full article here : https://theheadphonelist.com/adv-m5-tws-review-rejoice/