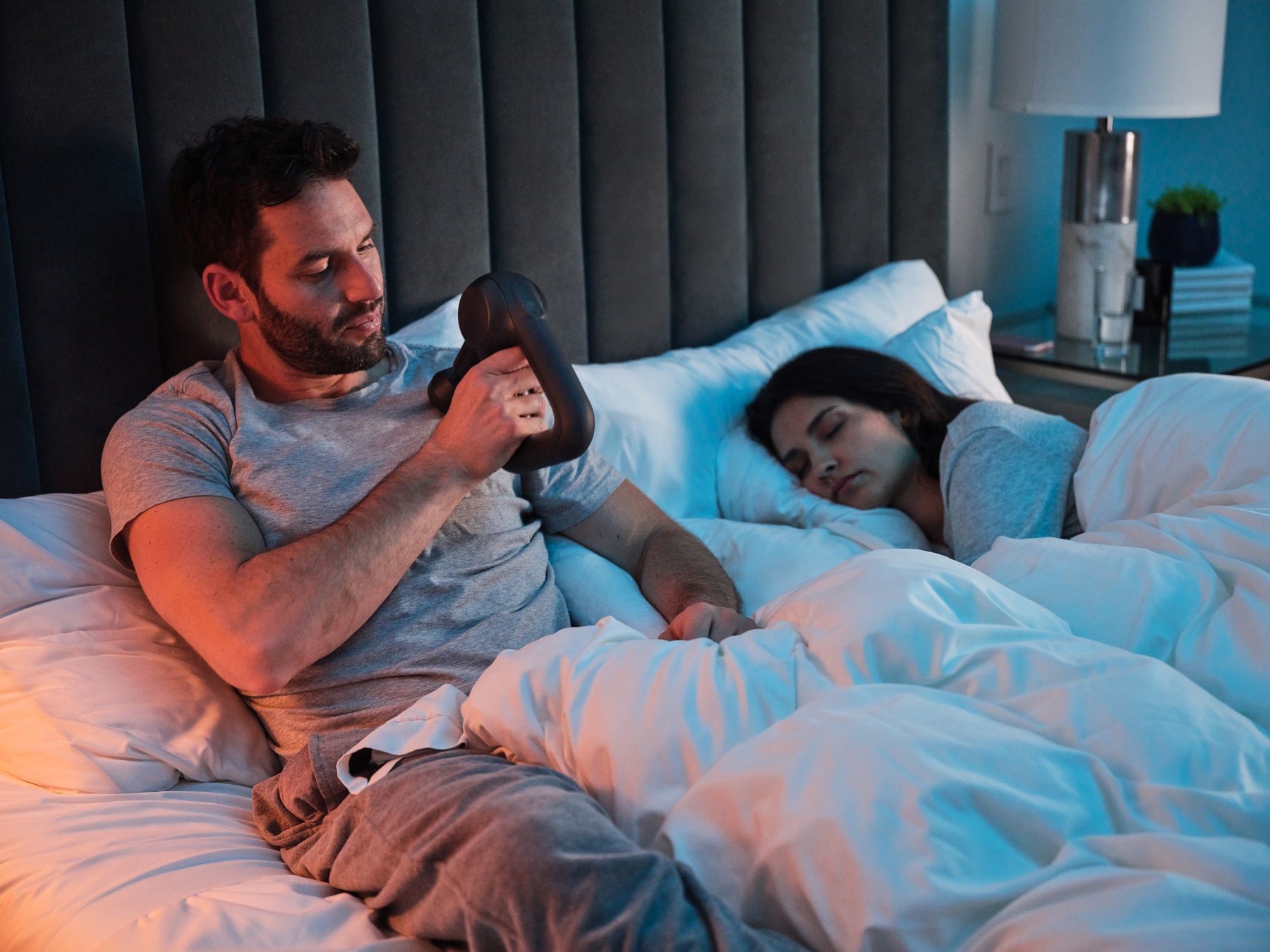 Recent study confirms effectiveness of Theragun Percussive Massage Therapy, improving sleep efficiency and quality of life
Therabody, formerly known as Theragun, the global leader in tech wellness and best known for its groundbreaking percussive massage therapy devices, announced today the final results of its research study. Therabody University, Therabody's education and research division, Biostrap Labs, the research division of the clinically validated wearable Biostrap, as its partner to conduct the structured intervention commercial study. Final results of the study found that 87% of participants fell asleep faster after using a Theragun Percussive Massage Therapy device. 
In the United States alone, more than 50 million people suffer from diagnosed sleep disorders. According to a recent survey on sleep habits, 67% of Americans said their sleep is worse now than before the pandemic.  While the health and wellness industry is saturated with products claiming to improve sleep, without scientific approval, very few show clinical proof of the effects like the Therabody and Biostrap Labs study results have proven.
For the study, 73 participants, ages 18 - 40, were asked to participate in a phase-based, standardized program utilizing both the Biostrap wrist-worn sensor and the Theragun Elite Percussive Massage Therapy device with the Therabody app. The five-week study was aimed to solidify Therabody's claims that Theragun Percussive Massage Therapy goes beyond reducing tension and pain, improving range of motion, increasing circulation, and maximizing recovery -- it also improves sleep quality, which is tied closely to overall health. This was the first research study looking at the effects of Theragun Percussive Therapy on sleep and other biometrics from wearable technology providing objective quantitative evidence for those effects.
Study Design and Results
The purpose of the overall study was to provide objective and subjective evidence on the acute and chronic effects of two weeks of consistent percussive massage therapy application in a population of physically active adults.
Participants were asked to wear the Biostrap wrist-worn sensor throughout the entire duration of the study in order to provide continuous and reliable data measuring their sleep and recovery. For the first two weeks of the five-week trial, participants were asked to continue their everyday routines and not use Theragun Percussive Massage Therapy. In weeks three and four, participants were asked to maintain their normal routines, while utilizing the Theragun before going to bed based on the company's proprietary Sleep routine in the Therabody app. In week five, participants were asked to cease the use of the Theragun and Therabody app to understand and identify if any of the effects from the Theragun Percussive Massage Therapy intervention were long-term.
In addition to wearing the Biostrap and using the Theragun post-exercise and pre-sleep, participants were asked to complete clinically validated surveys (Brief Resilience Scale & Perceived Stress Scale) at the beginning and end of the study and a brief daily survey to assess perceived pain, discomfort, soreness, sleep quality, physical, and mental health symptoms.
As scientists analyzed the various biometrics, sleep measurements, and survey responses, they found that 70% of participants improved sleep efficiency with significantly fewer awakenings and sleep disruptions and 87% fell asleep faster (decreased sleep latency). Furthermore, the majority of participants improved their Biostrap Sleep Score, with benefits maintained one week after discontinued use. Through the use of percussive massage therapy, participants had a statistically significant average of 6% improvement in chronic heart rate variability (HRV), an increasingly popular objective measure of your body's readiness to perform, or how "recovered" you are. Lastly, 100% reported improvements in overall quality of life, among additional lifestyle improvements after the use of a Theragun immediately following exercise activity and 30-minutes before bed completing the Therabody app Sleep routine. All 73 participants' data were kept anonymous.