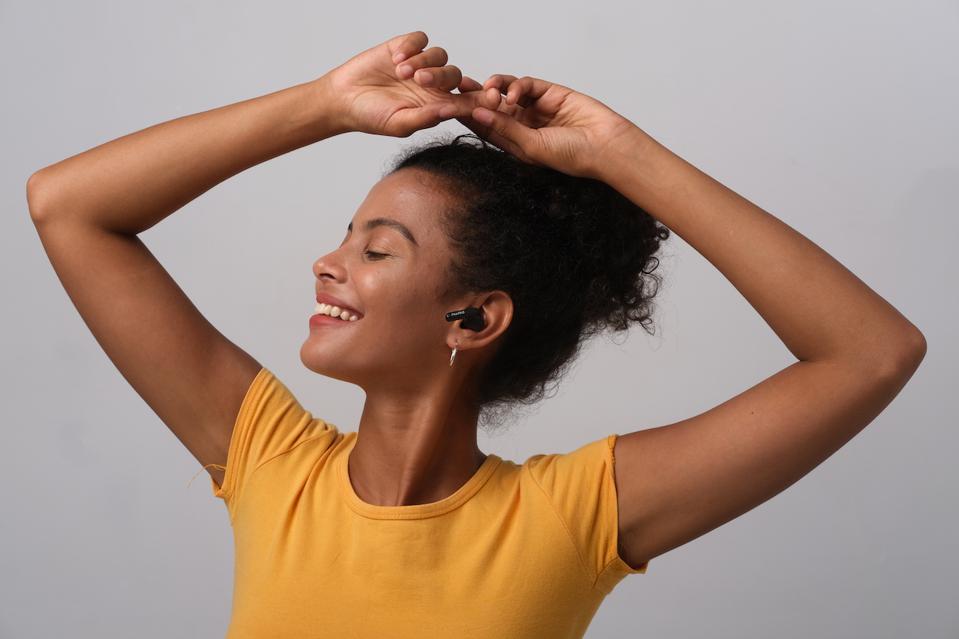 Newly Released Pamu Quiet Fitted with the Latest Tech
Like many other models on the market, these PaMu Quiet earphones include ANC (active noise cancelation) and boast the latest Qualcomm QCC5124 chipset using Bluetooth 5.0 plus support for aptX and AAC audio codecs, as well as Qualcomm's cVc noise-canceling microphone circuitry.
Additionally, the PaMu Quiet have a hybrid ANC system from AMS, an Austrian company specializing in a clever noise-cancelation technique that monitors sounds both inside and outside of the earphones. Using high-quality Knowles microphones to sample the sound, the hybrid ANC system filters out unwanted ambient noises to reproduce audio with external sounds mostly filtered out.
As I've mentioned before in my reviews of true wireless ANC earphones, noise-canceling models are less effective at noise canceling than over-the-ear headphones. Even so, the latest generation of true wireless earphones with hybrid ANC represents a big step forward. These earphones do a good job of filtering out droning and monotonous sounds to produce an audio feed that's clearer and cleaner.
Design and Battery Life
The PaMu Quiet are a slightly unusual design with a charging case that looks a bit like an old-school pocket watch. The front cover of the case has a semi-circular blue LED that animates while the battery is charging. The earphones are waterproof to IPX4 standard and can withstand a bit of rain and some splashes. The case has a removable lanyard for wearing around the neck.
The case can be charged using a USB-C cable or a wireless charging mat. A full charge provides up to three and a half hours of playing time with the earphones and there are a further two full charges in the charging case. That gives a total playing time of 10.5 hours. It's not the best battery life on the market but it's adequate for most users.
Pushing in the crown of the charging case makes a lid open just like a pocket watch. Inside the case are two compact earpieces. There are three pairs of silicone ear-tips supplied in small, medium and large sizes. The tips are slightly oval shaped and didn't make a great seal in my ears. 
Sound Quality and ANC capabilities
Inside each earpiece is a dynamic 10mm PEN-titanium driver that can pump out some serious bass. The treble response of the drivers is nicely detailed, although the midrange sounded slightly compressed to me; not enough to spoil my enjoyment but a bit squashed with a narrow soundstage. That said, I'm judging these earphones with extremely critical ear and I think they perform extremely well and have an all-round pleasing sound.
Each earpiece has touch controls that can be used for pausing or playing music; skipping or repeating tracks; accepting or rejecting phone calls; plus cycling through the ANC modes and summoning voice agents like Siri or Google Assistant.
The ANC function filters out a lot of ambient sounds and is good at reducing continuous noises like the roar of an aircraft engine or the hum of an air-conditioning unit. The quoted noise reduction level is -40dB, which is a fairly respectable figure. The ANC function has three modes: On, Ambient and Off. The Ambient mode relays external sounds and enables the user to listen out for travel announcements or simply eavesdrop without removing the earphones.
The ANC function works pretty well for a pair of earphones. I'd happily use these for listening to music during a flight. Of course, a pair of true wireless earphones won't have the same noise-canceling efficiency of a pair of top-flight, over-the-ear ANC headphones, but those can cost around three or four times as much as many true wireless ANC models.
As well as having microphones for filtering sound, the PaMu Quiet also have microphones for capturing the user's voice when making phone calls or for voice commands. Qualcomm's cVc 8.0 noise-cancelation technology does a lot of clever processing to control the gain of the microphones while enhancing speech quality and doing lots of other processing to improve the overall voice quality.
Verdict
There's a lot to like with the PaMu Quiet true wireless ANC earphones. They cut out a lot of irritating background noises and they sound big and bold, thanks to a pair of large 10mm dynamic drivers. The battery life is only average, and the ear-tips can benefit from being replaced with a pair of aftermarket tips. However, these are a very creditable pair of true wireless ANC earphones and they are well worth auditioning.
Looking for an alternative? Check out the PaMu Mini as well! 
This article was originally written by Mark Sparrow for forbes.com on September 15, 2020.