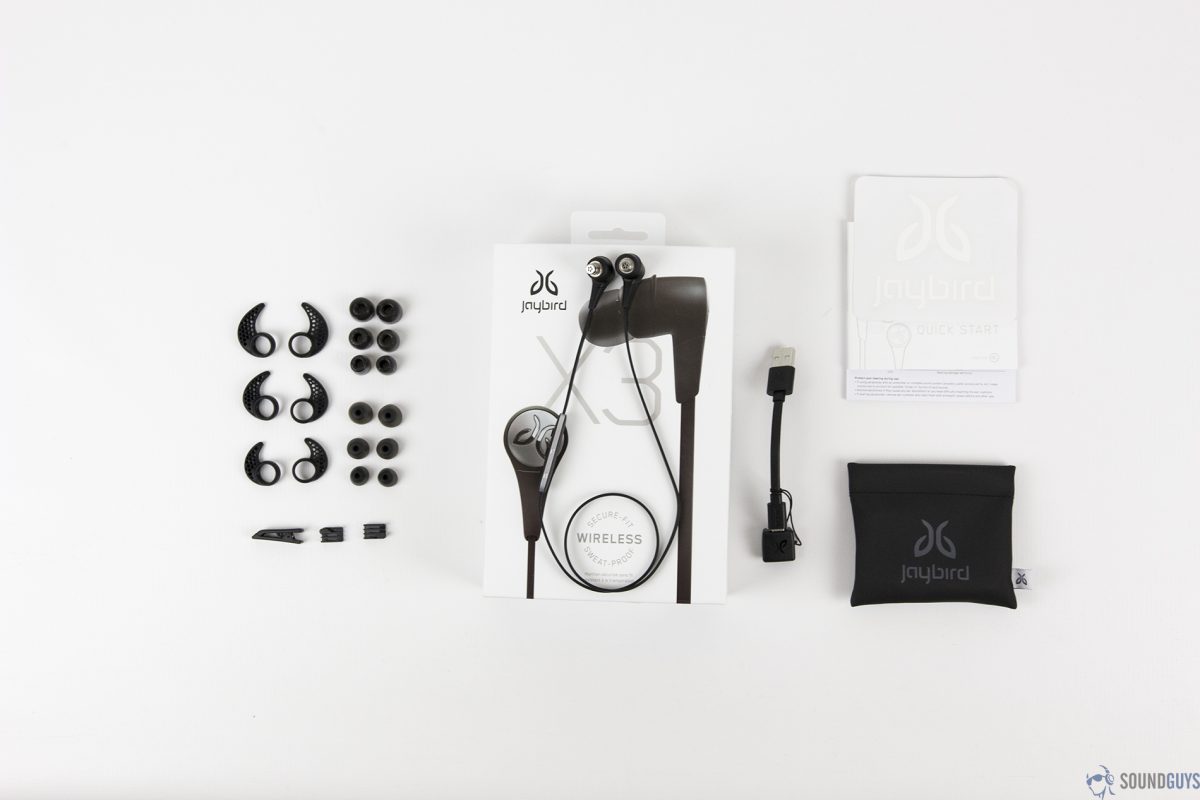 Jaybird X3 Review by Soundguys.com
Just in time for the holidays, Jaybird announces the highly anticipated X3. I don't know if any of you were waiting for these so I don't know how anticipated they actually were but after trying (and not liking) the Jaybird Freedoms, I was really looking forward to these. But was I waiting in vain? Are these actually good enough to succeed the X2s?
What's inside
Opening the box you'll get the headphones, a handy snapping carrying case with the Jaybird logo on it, a small bag with the wing tips, another small bag with silicone ear tips, and finally one with the memory foam ones. Along with that are small clips to keep the wires under control if you need them (I didn't really), a Jaybird sticker, the charging cradle, a quick start guide, and an instruction booklet.
Build & Design
The X3s got a brand new makeover, and it looks great. The cheap plastic of the X2s is replaced with more cheap plastic, but this one just looks and feels way better. Especially in the black and silver option that we got a chance to review. The earbuds are definitely slimmer this time around but they're still fairly bulky. Especially after adding the new wings and ear tips. On the bright side I had no problem keeping these in my ears whether I was sitting at a desk or actually going for a run. A nice improvement from the Freedoms that came out earlier this year.
The earbuds are also slightly angled now which, when combined with the slimmer housing overall, helps these shoot audio straight down into your ear. We'll get to the actual sound quality a little later in the review, but as far as fit goes these are a winner. The cable is more or less the same, but the next big change you'll find is with the control module/mic. It's still located about 2 or 3 inches below the earbud, but the module on the X3 is now just a little bit bigger thanks to it also now housing the battery. That said, it isn't too bulky or cumbersome. It's easy to use and also looks just a little more stylish.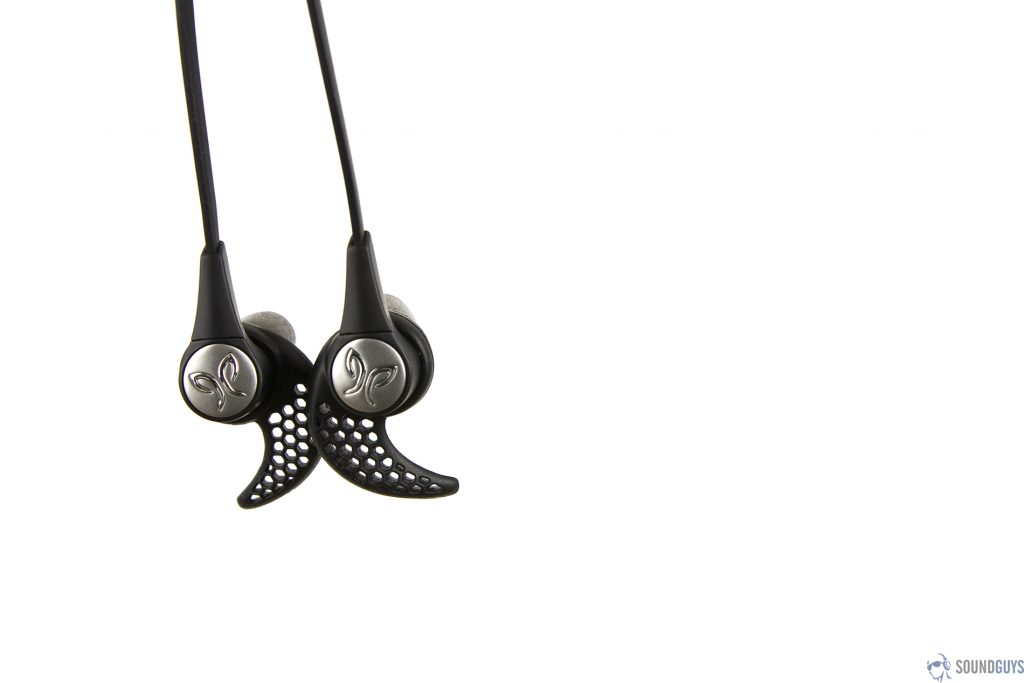 You may be noticing an overarching theme here: the X3s are way more polished than Jaybirds previous headphones when it comes to build and design. The one area that I wish they improved on was their sweat proofing, which is still stated as having a hydrophobic nano coating rather than an actual waterproof rating. It's worth mentioning that I had no troubles during my testing and if you do experience issues, Jaybird covers you for a year. The hardshell carrying case also got a demotion but I actually like the new one better. It still protects the headphones but now I can stuff it in my pocket if I need to. Unlike the last case  which was basically a solid treasure chest of rubber. Again, it's just more polished and practical.
Connection
The X3s now have Bluetooth 4.1, which means that you can connect two of them to the same source device if you want to. You can also connect to two different devices at once, though weird things started to happen when I did. For example, when listening to music on my Pixel while connected to my iPad, Siri would pop up when I held down the multifunction button in the middle instead of the Google Assistant. Of course, I'm not entirely sure how often this will come up in real world usage but it was something that I figured I'd mention if you use both Android and iOS devices like I do. On another note, lag or latency on these is pretty much nonexistent. I caught up on all the Casey Neistat vlogs I've missed which is a very entertaining way to test Bluetooth headphones.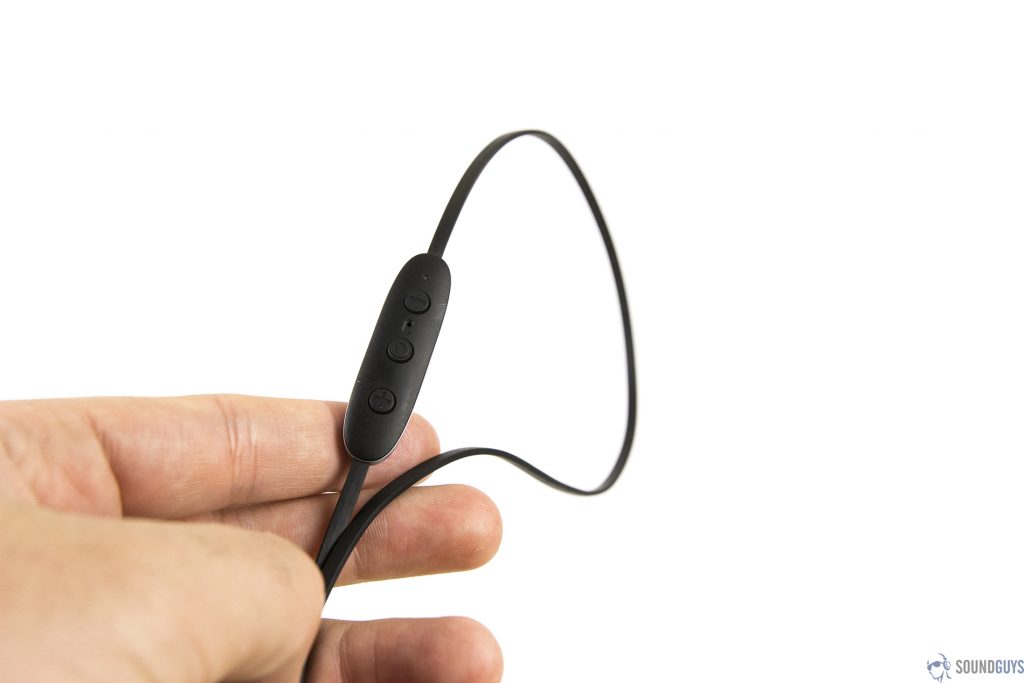 What's a little more practical is how strong the connection is to my source device and here I had very few issues. The connection stayed strong for up to around 20 – 25 feet, and there was only mild skipping when exercising. I counted three small stutters in about 3 hours of exercise which isn't bad. Connecting was simple and I got both iOS and Android devices to connect within 10 seconds each. That equality between the two operating systems extended to the playback controls as well. You can raise or lower volume with the top and bottom buttons, but you can also skip between tracks by holding them down for a second or two longer. If you want to access Siri or the Google Assistant simply hold the middle button down. Tapping that same middle button will also pause/play music.
Then there's the app. In it you can choose from a few presets and even customize the sound to your liking if you don't like any of them. Once you make (or pick) a preset, it will be saved to the X3 headphones so you'll get that same sound profile regardless of which source device you're using. On top of that it'll tell you exactly how much battery is left which is always nifty.
Battery Life
Jaybird claims a battery life of 8 hours with the X3s, which matches that of the X2. It would've been nice to see them take a step forward in this department but I guess battery technology isn't quite there yet considering how small it needs to be to fit in these. That said, we got a little under 8 hours of playback on average to high volume which is still pretty good.
Sound Quality
We did all of our testing using the "Signature" sound profile in the app which is the default setting, and everyone knows how important defaults are.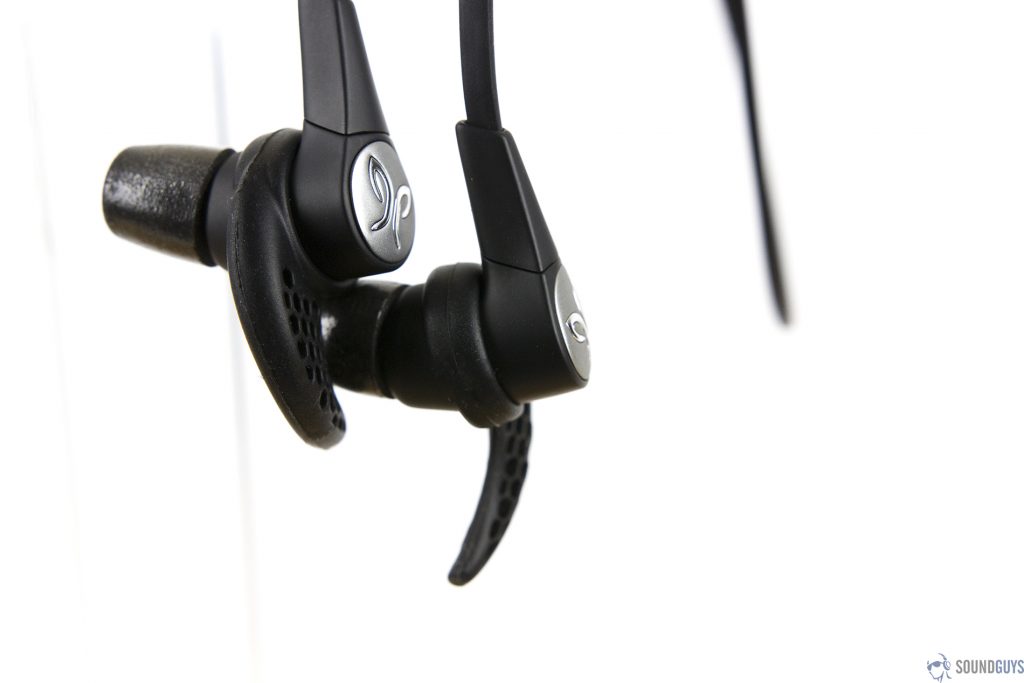 Lows
Lows were a little too big sounding for my taste during average usage, but it's definitely helpful while running. Sometimes you need that extra push to keep you going. But if you don't agree, you can always just change it via the app. Still for the default sound profile it wasn't bad.
Mids
I felt like the mids lost a bit of their clarity compared to the X2s. Vocals were pulled back just a little bit and with the kicking bass it made for a pretty busy mid range. This is especially noticeable in the song "Mr. Rager" by Kid Cudi. The snare during the chorus sounds like it digs into the vocals slightly with every hit.
Highs
Highs are also given a slight push and it can lean a little towards harshness though it never quite becomes painful. The intro to "Little Wing" by Jimi Hendrix does come in a little strong and slightly uncomfortable as he strums the guitar. Like I said, it's not really painful but enough to make your ears perk up.
Conclusion
So one thing I've intentionally left out until this point is the price. When the X2s were released they were about $179. Then the Freedoms came out earlier this year priced at $199 and I was sure the X3s would follow suit. But you can actually get the X3s for $129 which to me is a no-brainer. It's good to see Jaybird pricing their products more competitively now. I'm not going to say these are 100% worth it for everyone, but if you exercise often these are a great value.