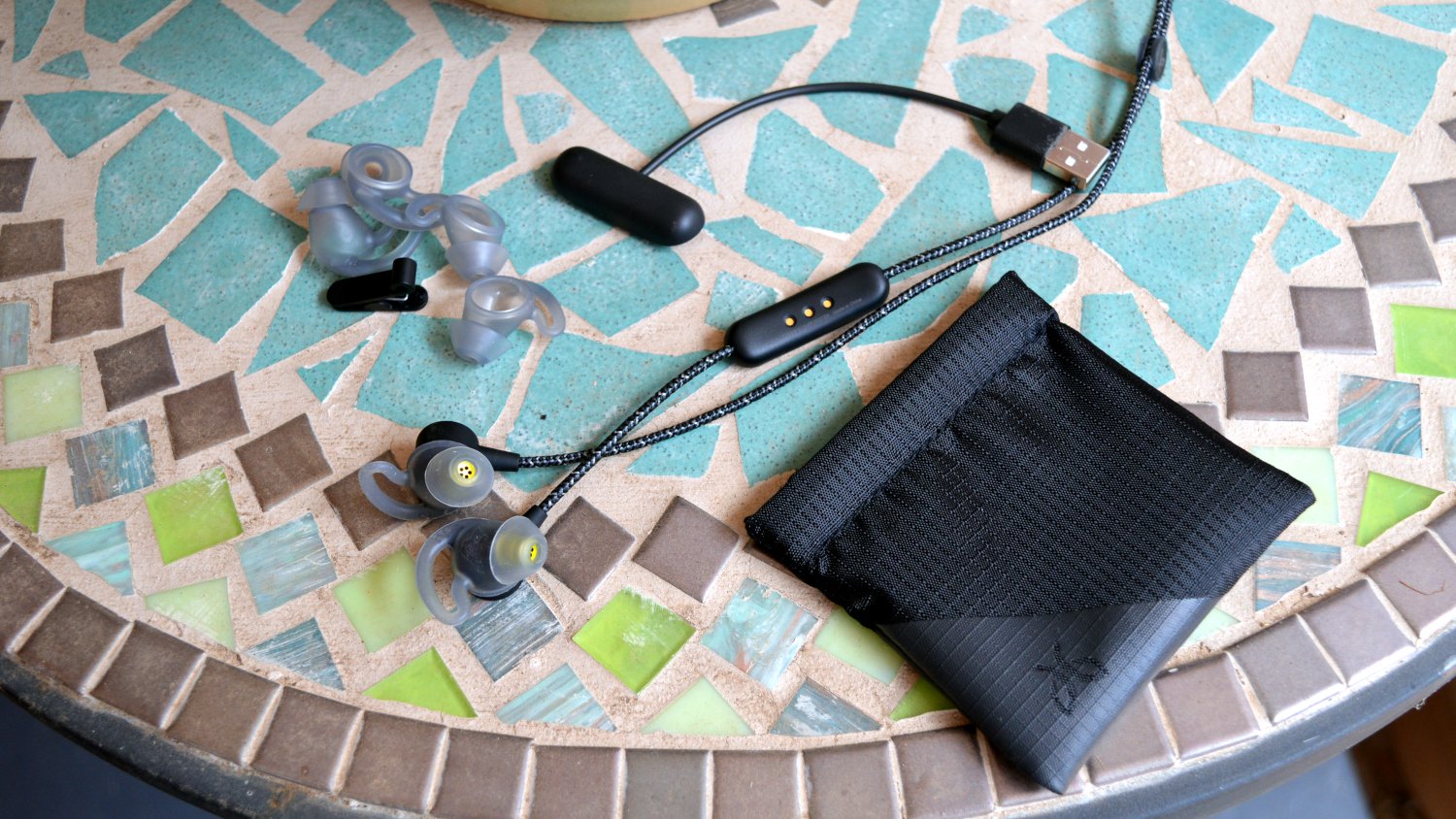 Jaybird Tarah Pro Review by HeadphoneReview
Good sports headphones are always a little tough to find. Sure, there are dozens of models out there, and you'll likely find it easy to find a pair of headphones that are billed as sports headphones — but they won't necessarily be comfortable, stay in your ear when you move around a lot, or sound good. Jaybird, however, has a pretty good track record with sports headphones, with models like the Jaybird X3 headphones. Now, the company's back with another pair — the Jaybird Tarah Pro.
But do the new headphones live up to the Jaybird brand name? Are they really worth buying if you want great headphones for sport? We put the Jaybird Tarah Pro headphones to the test to find out.
Design
The design of the Jaybird Tarah Pro headphones is similar to other Jaybird headphones in many ways, but with a few tweaks. The earbuds themselves are pretty basic, featuring a Jaybird logo on the cap, under which are magnets — so if you have the headphones around the neck and you're not using them, the earbuds can snap together.
Instead of traditional ear tips and ear wings, Jaybird includes three pairs of ear tip/wing combo tips, which is a nice touch. It means that you won't be able to use the headphones without sports wings, but considering these are sports headphones and you'll want to ensure they stay in your ears we don't think many people will want to do that anyway. Part way down the right side of the cable, you'll find a three-button remote, which includes controls for volume and a central control button.
Apart from the ear tips, the headphones seem well built and able to withstand most abuse you can throw at them in the day to day. The cable that wraps around your neck, for example, is built from a braided nylon — which helps make it nice and strong. The plastic used on the headphones also seems high-quality and strong, which is always helpful.
As you would expect from a pair of sports headphones, the Jaybird Tarah Pro headphones are water resistant with a rating of IPX7. You probably shouldn't take them swimming, but if you get caught in the rain or sweat a lot, they should survive unscathed.
In the box, apart from the headphones themselves, you'll find the three pairs of ear tips, a charging cradle to charge the headphones, and a clip for attaching the headphones to your clothing. There's also a small carry pouch, which is always nice to see included.
Comfort
It's important for sports headphones to be comfortably, for multiple reasons. For starters, nothing ruins a workout more than issues with headphones, so you don't want them falling out or being too uncomfortable when they're in your ears. Thankfully, however, the Jaybird Tarah Pro headphones do well in that department — they're comfortable for extended periods of listening, and good at staying in your ears, even when you move around a lot.
Sound
Ultimately, of course, the most important thing to consider is how a pair of headphones sound, and the Jaybird Tarah Pro headphones sound great. Part of that has to do with the fact that using the Jaybird app, you can tweak the frequency response of the headphones, which means that if you like a lot of bass, or extended high-end, you can get those.
Let's start with the bass, which is punchy and strong, depending on the amount of bass you select in the EQ. With a bass boost, you're able to get nice and thick bass response, with plenty of kick in bass drums, and a solid tone from bass guitars and synths.
The mid range is well tuned too. Low miss are nice and warm, while high mids are able to bring vocals and guitars straight through a mix.
Highs are clear and detailed, though as is often the case with in-ear headphones there isn't quite as much clarity as you might get on some pairs of over-ear headphones. Still, for a pair of sports headphones in this price range, we loved the amount of clarity we were able to get.
There some things you can tweak in the app, but thankfully the headphones still deliver on those aspects too. For example, we didn't run into too much distortion, especially within reasonable listening levels, and found that while not super-wide, the soundstage was fine. The headphones are very good at blocking out outside noise too.
Performance
The Jaybird Tarah Pro headphones connect to your music player through Bluetooth 5.0, and feature a battery life of 14 hours, which is really quite good. Most other in-ear sports headphones have a battery life of around 8-10 hours, so 14 hours is a significant step forward.
Bluetooth 5.0 connectivity is also a nice touch. You will need a phone or computer that supports Bluetooth 5.0, but if you do you'll get better range and improved connectivity. We didn't experience any real issues with connectivity, especially within the rated distance.
Conclusions
The Jaybird Tarah Pro headphones are a worthy successor to Jaybird's previous sports headphones. So much so, that we think these are well and truly the best sports headphones you can buy. They're well-designed, comfortable, boast an excellent battery life, and sound pretty good too.
But what if you don't have $160 to spend on a pair of sports headphones? Well, if that's the case, then we recommend headphones like the JBL Reflect Mini 2, which come at $100. If, however, you can afford the Jaybird Tarah Pro headphones, then we absolutely recommend them — they're the best sports headphones out there.
In fact, because of their excellent build, great sound quality, and high comfort-level, the Jaybird Tarah Pro headphones are one of the very few pairs of headphones to get the Headphone Review Gold Medal.