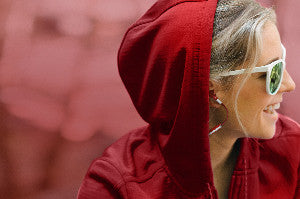 Jaybird launches their fifth generation of wireless sports buds, the Freedom - HWZ
Jaybird releases their fifth generation of the Freedom ear buds, and the latest to hit the market is the Jaybird Freedom Wireless Bluetooth Buds. The device is sweat-proof, and it has its own app for customizing audio profiles and settings.
The new Freedom is their smallest secure-fit buds to date, and it uses a metallic taper-down design that reduces the speaker diameter by 20 percent. The ear buds come with two sets of tips – one for sweat-proofing, and the other for secure sports fit with the help of memory foam. A listener can use the included silicone wings for an even better grip around the ear canal.
The device uses A2DP Bluetooth to wirelessly connect to smartphones, and it's cross-compatible with a wide range of phones. This means that the same Jaybird Freedom works with both iOS and Android. For controls, it uses a three-button controller lined along the audio cable. The controls also pack a microphone, which makes the wireless Bluetooth ear buds capable of taking calls.
It boasts a battery life of four hours, and it's extended by another four with a USB charging clip that doubles as a portable charger for the Jaybird Freedom.
Here are some of the Jaybird Freedom's audio specifications:
Drivers: 6mm
Sensitivity: 96 +- 3 ohms
Impedance: 16 ohms
Codec: AAC, SBC, Modified SBC
Format: 16-bit Stereo
Bluetooth: Bluetooth 4.1 with Hands-free, Headset, A2DP, AVCRP, SPP
Playtime: 4 hours (8 hours with charging clip)
Charging time: 2.5 hours
Weight: 13.8g
The Jaybird Freedom Wireless will be available starting from 16th September 2016, at a price of S$259. They come in four colors: Gold, Carbon (black), Blaze (red), and Ocean (blue). You can learn more about the Freedom Wireless here. It's no surprise to us that the in-ear headphones' launch coincides with the availability of a particular smartphone with no 3.5mm audio jack on the same day itself.