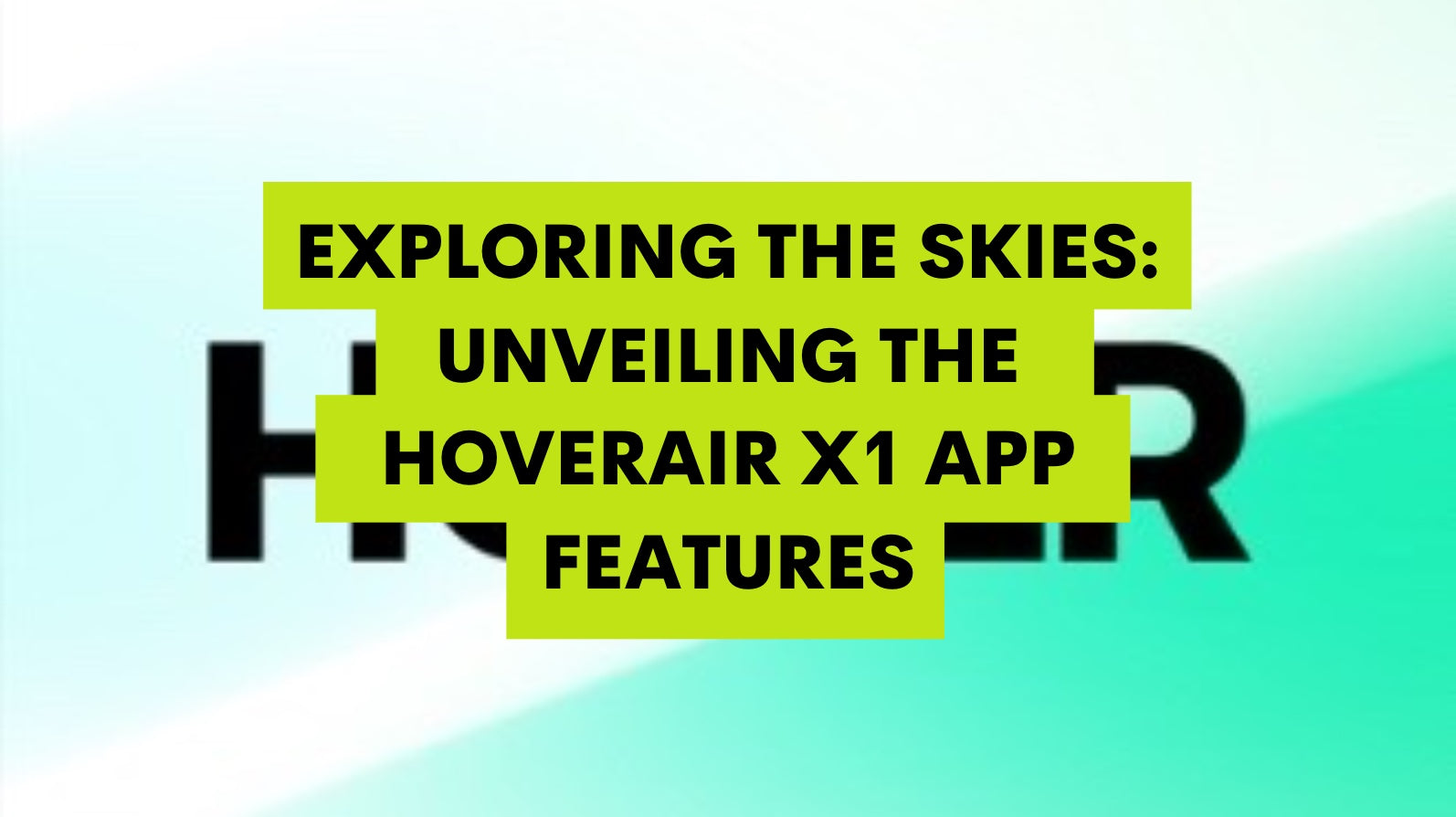 Exploring the Skies: Unveiling the HOVERAir X1 App Features

Why HOVERAir X1?
What sets this innovative device apart is its unwavering commitment to simplicity and accessibility. Say goodbye to complex controllers and the need for extensive training – with the HOVERAir X1, you can launch it from the palm of your hand and take flight effortlessly. Its compact size, just 127 x 145 x 30 mm when unfolded, allows it to slip into your pocket, ensuring that adventure is always within reach. This drone's quadcopter design, complete with four propellers safely enclosed in a plastic shroud, guarantees both stability and safety. With a focus on user-friendly controls and a maximum speed of 15 mph and altitude of 50 feet, the HOVERAir X1 is the perfect choice for those who seek adventure without compromise. Say hello to a drone that opens up new horizons while ensuring safety at every turn.
The drone needs to be paired with the HOVER app as part of the initial setup. Featuring four tabs and a visually appealing user interface, this application is well-organized and easy to navigate. Moreover, the app's layout and content are comprehensible and appropriately translated. After syncing to the drone, you can modify any flight mode parameter and see every photo and video that has been taken. You can also alter the flight trajectories to get broader or closer-up shots using controls like distance and altitude. Last but not least, each mode is explained with stunning animations, and you can swiftly experiment with them which are all displayed on a single tab in the app.
Once the mobile app has been successfully paired with the HOVERAir X1, tap on the Hover Settings icon. These modes have parameters that you can adjust with or without the mobile app. You may access these modes directly on the device, placing them right at your disposal. Nevertheless, the app also offers three more complex modes if you're itching for even more command. Dolly Track mode simulates the dynamic movement of a dolly in ground-level video production, trailing you from the front and gradually retracting to produce an outstanding shot. Snapshot mode immediately takes a photo while you stay stationary. For users who wishes to have full free-form flying control, manual mode is much more applicable.
Connect to the device via Wi-Fi in order to view the images and videos that the HOVERAir X1 has taken.
If you intend to record sound, you'll need a smartphone because the application records using the microphone from your phone then syncs it with the drone's footage after the recording is downloaded. The application incorporates a digital noise filter to its audio so that the recording does not just sound like the X1's whining propellers.
How does it work?
The X1 excels in real-world scenarios, exuding an almost surreal performance that defies expectations. It evokes a sensation of transcending the boundaries of time, as if we've journeyed from 2023 to a futuristic world in 2050. In order to operate the X1, below are some simple steps to follow:
Unfold the gadget

Place it on the surface of your palm

Press and hold the power button

Select a flying path from the preprogrammed options

Ascertain that the camera is able to capture you effectively (or else it would be unable to complete its flight)

While holding the X1 in your palm, click the power button

Once in flight, the drone will follow its preprogrammed flight.

The miraculous moment is about to happen. The X1 will be hovering back where it began after completing its flight path

Position your palm underneath it to help it land. The X1 places itself in your hand using its cameras.
In contrast to conventional drones, which frequently take a lot of experience and training to master, the HOVERAir X1 was made with user-friendliness as a top priority. With the drone's multitude of autonomous flight modes, shooting original and breathtaking footage is as easy as pressing a button. Among the eight primary modes available to you are:
Consider this as your virtual tripod in the sky. It keeps the drone at a steady height, with the option to have the camera track your movement or disable it via the app.
The drone gracefully arcs away from you and then back, with options in the app to adjust the distance and altitude variation. This mode captures two distinct video clips: the outward flight and the return flight.
In this mode, the drone orbits around you at a set distance. Using the app, you can customize parameters such as altitude, radius, and angle to capture the perfect shot.
A notable feature, Follow Mode lets the drone autonomously track your movement, offering the opportunity to capture unique and captivating video footage without the need for costly equipment or an extensive crew.
True to its name, this mode captures an impressive bird's-eye view by ascending while rotating around you. Similar to Zoom Out Mode, this feature records the upward and downward flights as two separate clips.
Similar to Follow Mode, Dolly Track Mode has the drone autonomously following you, but with the drone staying ahead of you and catching your face in the shot.
With manual control, you're at the helm, adjusting your shots in real-time to achieve precisely the cinematic vision you desire.
With its snapshot mode, you may take group or self-portraits without using a timer or pressing a button.
To make it easier for users to record portrait videos and upload them on Instagram and TikTok, a new function called Vertical Shooting was introduced.
Overall, the HoverAir X1 is essentially ideal for anyone who wants to capture some gorgeous aerial images of themselves or their surroundings with as little difficulties and doesn't intend to set up an entire video production firm relatively soon.
The X1 is unquestionably the best option when it boils down to what the majority of users desire!
Author:AJ