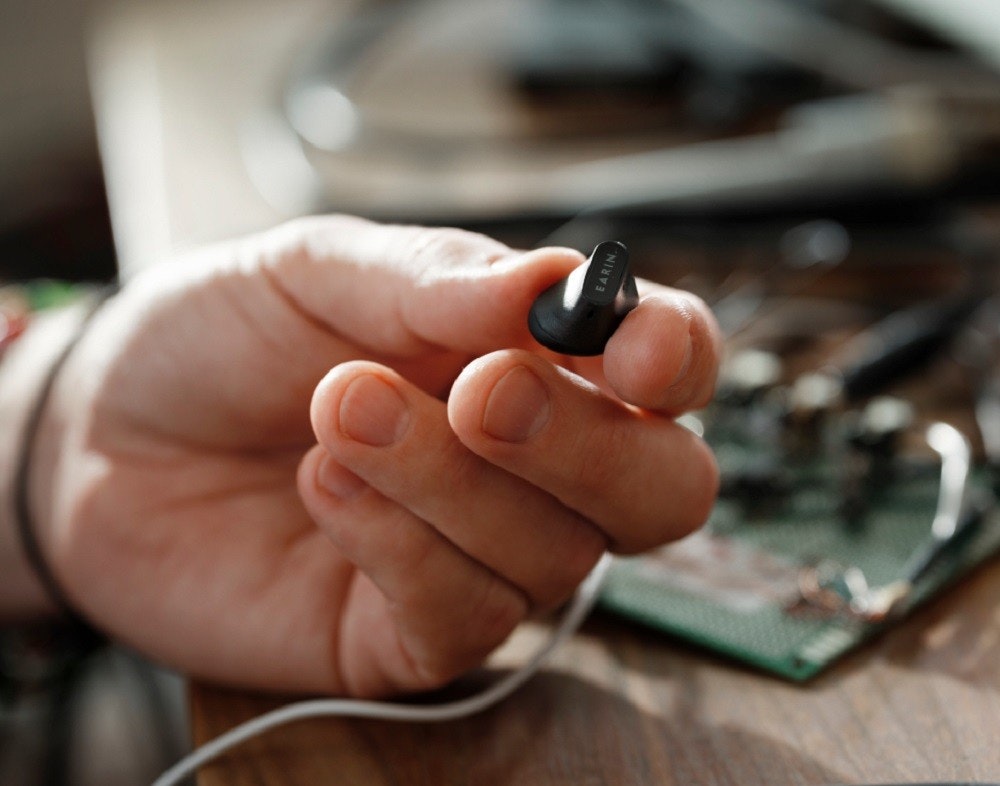 EARIN - True Wireless Pioneers returns with the A-3
Sweden's Earin was the first-ever company to release the true wireless earphones back in 2015. Now launching its 3rd generation of TWS, the A-3 earphones comes with innovative audio and wireless connectivity features, wrapped in a sleek, Scandinavian design, making it the smallest and lightest earbud on the market.
Open Design with Automatic Placement
Utilizing an "open" design, the A-3 sits comfortably in the outer ear, making them easy to wear throughout the day. With the removal of the 'stem' found in typical wireless earbuds, the Earin A-3 poses an attractive and discreet appearance. This unique shape guarantees a secure fit that stays put during any activities or ventures. Engineered with a patented automatic placement recognition technology, the A-3 can assign itself the appropriate left or right audio channels. Both of the earbuds are essentially identical and there is no designated "left" or "right" earbud, making it easy to use, straight out of the charging case.
Small Form Factor, Great Audio Quality
The A-3 comes with 14.3mm high-end speakers, moving 20% more air than other wireless earphones, delivering a superior audio experience. They are the first unsealed earbuds to provide such a great audio quality, in the smallest form factor on the market. The earbuds feature passive noise cancellation to negate external sounds, complemented by wind noise reduction algorithms. Each earbud is comprised with a microphone, a voice accelerometer and a scientifically developed algorithm, providing excellent call quality.
This new true wireless earphone features its seamless and intuitive touch interface which is simple and easy to use for handling calls and music playback etc. The A-3 is IP52-certifified, which means the earbuds can handle occasional splashes, sweat, and dust exposure with ease. This makes them optimal for everything from workouts to working from home.
Drop It Like It Charges
Via a USB-C connection and a smart capsule design, the A-3 provides an effortless and wireless charging experience through the iconic aluminium case. The A-3 offers up to 5 hours of playtime per charge, with a total of 30 hours with the charging case.
"We are thrilled at the overwhelmingly positive and enthusiastic reaction since we announced our newest generation of earbuds earlier this year", said Johan Lembre, CEO, Earin. "We design products that we are excited about and want to use ourselves, and the A-3 is no different. We can't wait for people to experience the years of innovation and hard work by our engineering team."
Main Specifications
| | | |
| --- | --- | --- |
| Audio | Speaker | Customised 14.3mm Dynamic Driver / Impedance 32Ohm |
|   | Noise Reduction | Passive Noise and Wind Noise reduction algorithms |
|   | Audio Codec | SBC, AAC, AptX, AptX low latency |
|   | Frequency Response | 20Hz - 20KHz |
|   | Microphone | 4 Microphones (2 Knowles Microphones + 2 Voice pick up) |
| Battery | Playtime | Music and calls: up to 5 hours |
|   | Charging | Earphones fully charge in 1.5 hours with the charging case |
|   |   | Up to 30 hours earphones with the charging case |
|   |   | Charging case fully charged in 3 hours with a USB-C cable |
| Connectivity | Bluetooth | Bluetooth 5.0 supports TWS+ technology |
| Dimensions & weight | Earphone (each) | 20mm x 17mm x 15.8mm, 3.5g / 0.12oz |
|   | Capsule | 58.5mm x 47.2mm x 21.2mm, 50g / 1.76oz |
| Smart Sensors | Touch Sensors | Earbuds control |
|   | Accelerometers | Control music and calls |
|   |   | EARIN patented left and right earphones detection |
| Environment | IP rating | IP52. Sweat, splash and dust resistant |