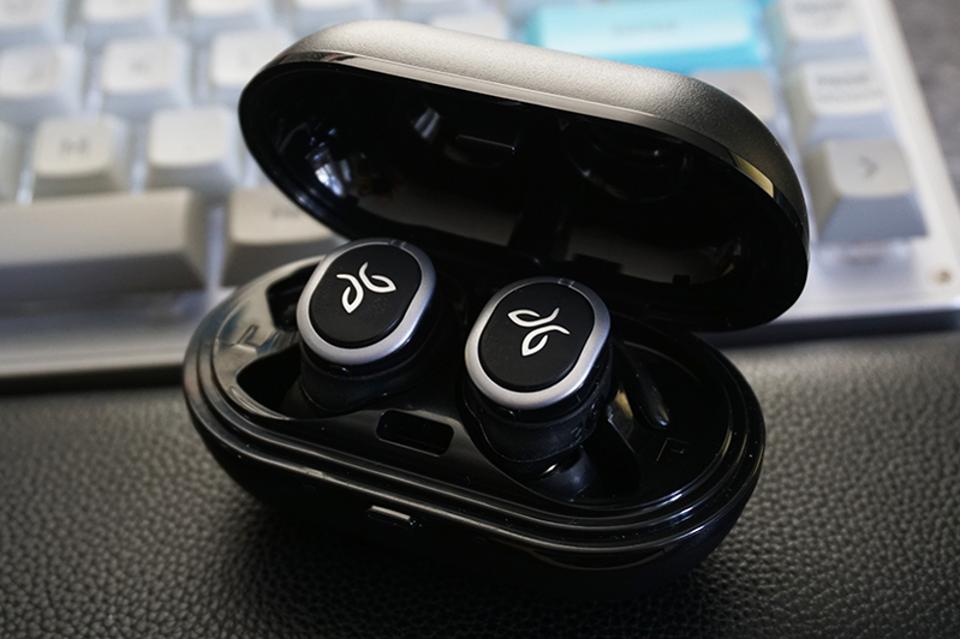 Jaybird RUN Review by Forbes
Jaybird is known for making sports-oriented Bluetooth headphones, and devices like the Jaybird X3 have been extremely well-reviewed by consumers and journalists alike. The earbuds on the X3 are still connected by a cable, but many companies are doing away with that and going completely wireless. See Apple and its popular AirPods. Add Jaybird to that list.
The Jaybird Run is the first set of completely wireless buds from the Logitech subsidiary. They're not a svelte as AirPods, but they'll actually stay in your ears. They also sound awesome.
Design And Fit
Each of the Run earbuds are just slightly larger than the X3 earbuds, and there are multiple fins and tips to ensure a good fit in your ear. Jaybird says it redesigned the fins to make them stay put better, which is good since there's no cable to catch an earbud if it comes out. Thus, it's possible to lose one.
Thankfully, I don't think you'll have to worry about losing one of these. The Jaybird Run stays put in my ears as well as any earbud I've worn. I've used the Jaybird Run at the gym several times, and I never even have to adjust them. Sometimes I even forget I'm wearing them.
The Jaybird Run comes with a small pill-shaped battery case. Simply set the beds in their grooves, and they begin charging. The earbuds are supposed to run for about four hours on a charge, and the battery case has another two charges in it. The case itself is recharged via a microUSB cable. My only qualm here is that the case it a bit too girthy to fit comfortably in your pocket.
In general, pairing has been painless. I love that the earbud automatically power on and connect when you open the case, and power off when you close them inside. Small LEDs on the case tell you the charging status, too. The Jaybird app keeps you apprised of the battery in each Earbud, although the right one will drain a little faster. That's the one connecting directly to your phone, and the left bud connects to it.
Each earbud has a button, but they're a little hard to press. You can use them to skip tracks, play/pause, and even launch Siri or Google Assistant. You can customize them in the app if you prefer to control volume with the buttons.
Sound And Performance
The Jaybird Run sound as good or better than any other Bluetooth earbuds on the market. You can get better sound from a high-end set of wired headphones, but I don't think you can expect miracles over Bluetooth. However, for 99% of people, the Jaybird Run will sound great.
The Jaybird app includes a full graphical EQ with a ton of suggested presets. With a bit of tweaking, I'm able to get loud, crisp sound in the mids and highs. Bass is just okay, which should not surprise you. The Run don't get quite as loud as some other Bluetooth headphones, but they're plenty loud enough for me. Even at high volume, there's no distortion in the audio.
Bluetooth performance has been good overall. The app suggests that you keep your phone on the right side of your body during a workout to maintain the best connection, and that's probably a good idea. I've noticed several instances where the left earbud would fall out of sync for a split second before coming back. This only seems to happen when the phone is rumbling around in my left pocket.
Battery life falls short of the claimed four hours for me, but not by too much. I'm seeing a little over three hours per charge. I'd like it to be more, but the fit of the earbuds is so good right now that adding more battery would have been a mistake. The battery case charges the earbuds up quickly, so I don't have any "range anxiety" while using the Jaybird Run.
Should You Buy Them?
The Jaybird Run are priced at $180, which is a fair price considering the quality of Jaybird's products. They fit beautifully, sound as good as any other Bluetooth device, and come with a great charging case. There are a few Bluetooth hiccups right now, but I'm using pre-release software. You can pick up the Jaybird Run in a few weeks.