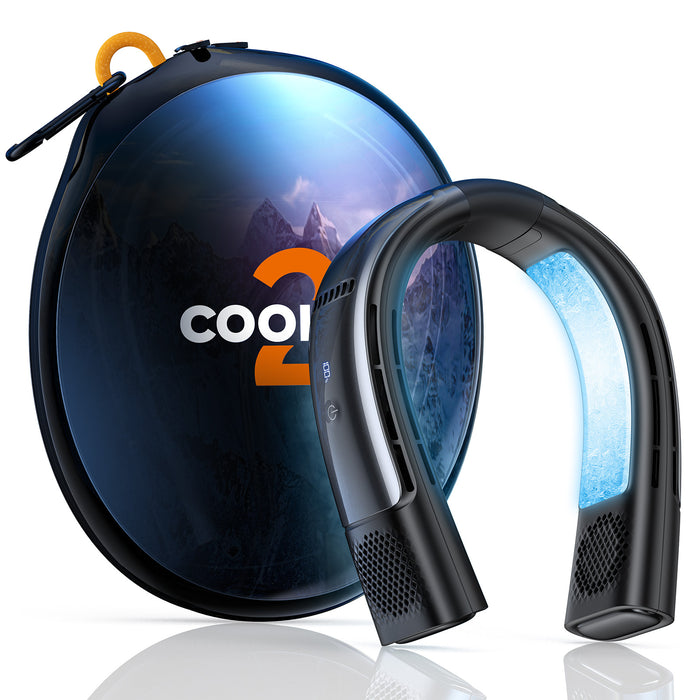 TORRAS Coolify2 - Wearable Air Conditioner
Sold out
Original price
$259.00
-
Original price
$259.00
FEATURES:
Cool down by 15°C in 1 second

Feel instant cool with Coolify2 wearable air conditioner's redefined Ku 2.0 Chip, which chills your whole body by 15°C in just 1 second. With two cooling plates, Coolify2's rapid cooling neck fan technology wraps around your entire neck, cooling every inch of skin. Coolify2 is the ultimate neck cooler! 
360° air flow coverage 
Be fully refreshed from neck to face with Coolify2 personal fan's immersive, 360° airflow. The bladeless fan's four air ducts and dual-layer vents generate a high-velocity airflow across your neck and face. 
3 hours charge | 1.5-18 hours of cool 
Experience up to 18 hours of cool air with just 3 hours charging. The setting mode you choose determines this portable neck fan's battery life. The Coolify2 personal neck fan can function for 18 hours in fan mode 1, or 1.5 hours in cooling mode 3. Led Screen shows the battery life and setting mode. 
Smart NTC temperature control for heat and cooling
Aligning 0.1 AI precision temperature control with NTC technology, the Coolify2 cooling fan delivers reliable, even cooling or heating. With 3 cooling modes, a fan mode and heating mode, the Coolify2 small fan helps you stay warm in winter and cool in summer. 
Cool that stays put as you move
From jogging to hiking, Coolify2 mini fan stays perfectly on your neck. Its unique C-shaped neck fan design ensures a secure active fit, while its premium silicone memory base flexes up to 160°, accommodating all neck sizes. 
Quick guide:



1. Click the power button-- turn on/off the wearable air conditioner or adjust the gear.
2. Press the power button for 1.5S at any gears--turn off the neck cooler.
3. Click the mode button-- switch in cooling mode and fan mode.
4. Press the mode button for 2S to switch in " cooling mode/ fan mode--heating mode".